NB this site is still
under construction

The World is Our Home
Mythic Horse Press with Playspace Publications & World Poetry Movement (Scotland)
ISBN 978-1-901129-16-8 (Paperback)
Cover image by Morven Gregor
Cost: £6.99 + £2.00 p&p
Contact Gerry Loose or
Buy the book here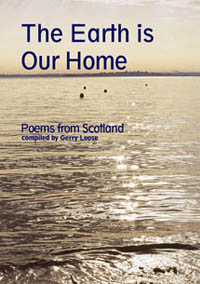 World Poetry Movement Scotland, in association with Mythic Horse Press, is delighted to be publishing the e-book The Earth is Our Home, the work of 19 brilliant Scottish poets. It's entirely free to download:
In addition we are intending to print and publish a book of the same title.
We are accepting pre-orders now, for publication in the summer. This will be a limited edition of 200 copies.
As a bonus, a thank you, the first 100 subscribers will receive in addition a free copy of TEN SEASONS: explorations in Botanics, (Luath / SPL), 127 pages of poetry, photographs and more – in fact what it says in the title.
Pre-sales are at £9.99 + P&P and the offer will last till 10 june 2022.
If you're interested in poetry, photography, climate and social justice and the humans and nonhumans with whom we share Our Home, then this offer is for you.
If you would like to pre-order a copy of The Earth is Our Home, please click the link to Gerry Loose above and he'll set it up.