Keekin Through Windaes
Ed. Joe Murray
Mythic Horse Press
ISBN 978-1-901129-03-8 (Paperback) £5.99
ISBN 978-1-901129-04-5 (eBook) £1.95
Contact Joe Murray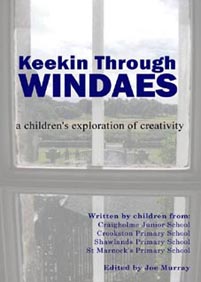 In February 2013 the learning team at Pollok House hosted a series of children's writing workshops. These included, art and poetry, writing in Scots, nature in poetry, writing a story, and writing a song. Also present were five professional writers highly experienced in working with children: Brian Whittingham, Linda Jackson, Liz Niven, Ken Cockburn and Gerry Loose.
Around 150 children from four local schools attended the workshops held over three full days – each child attended two different workshops during their visit. The schools were: Craigholme Junior School, Crookston Castle Primary School, Shawlands Primary School and St Marnock's Primary School.
This book contains poems, stories and songs from 48 of those children.