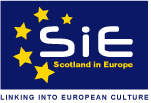 AIMS
The aims of Scotland in Europe is to promote grassroots arts projects mainly by annual themes set by the European Parliament and others and addressed through literary, musical and artistic productions.
We always aim to build sustainable networks with like-minded individuals and organisations advance and enhance opportunities for people who have never been involved in the arts. We take participants through training processes which involve making personal choices that help them develop insight and awareness of decisions that affect their lives.
OUTCOMES
Scotland in Europe has organised and produced over fifty projects, most of which included people who had never been involved in the arts before - for a variety of reason they had been disenfranchised.
Over thirty years we have been in existence the outcomes have been varied. Scotland in Europe has worked with children, adults, seniors and people living in areas designated as deprivation areas. We also work with people who simply identify with the concept of that the arts is an excellent engagement tool for helping people understand how decisions are made.
Participants begin to understand the importance of their won contributions regarding the decisions and choices the3y make concerning their own lives. Not only do they engage with the importance of taking part in social decision making such as voting inn elections, but also by taking the initiative and becoming involved as a citizen cognisant of what they would wish to see happen to themselves, their communities and their country.
ATTAINMENT
Scotland in Europe has had much success in attainment with 35-40% of people we engage with going into meaningful employment in art practice in a variety of forms to which they found themselves attracted to; in particular: music, writing, film and photography.